100W Led Flood Light Small Outdoor Flood Lights
100W Led Flood Light Small Outdoor Flood Lights
Led stadium light

China

3-5days

600000pcs Per month
This Flood Light has 10W chips installed. As there is more power in each individual chip, less chips are required to produce the same overall high-power output with a smaller size. The light efficiency is extremely high, reaching 160lm/W with DLC Premium. Lenses are premium, with very accurate optics.
Widely used in Stadiums, Sports Facilities, Tunnels, Squares, High Mast Lighting, Light Towers, Ports,High speed photographic ect.
• Adopt the industry high-end COB led light source Cree/Bridgelux
• The innovation of the cooling and temperature balance control technology
• Working life > 80,000 hours
• Led light failure < 2% (100,000 hours)
• The design of high reliable, high efficiency, constant current power supply
• The secondary optical DIWL technology(JPN, lens PMMA high light transmittance (98%)
• The multiple perspectives, distant, luminous uniform, suitable for different environment lighting needs
• IP67 rating is applicable to outdoor environment
This product can be applied to all kinds of sports venues,courtyard,square,airports, large construction sites, shopping malls, office building, exhibition hall, project planning, farms, golf courses,
playgrounds, car parks, toll station, gas station, warehouse, streets and tunnels, racetrack, ports, industrial, billboards, garage lighting environment.
100W Outdoor LED Flood Light
Main Features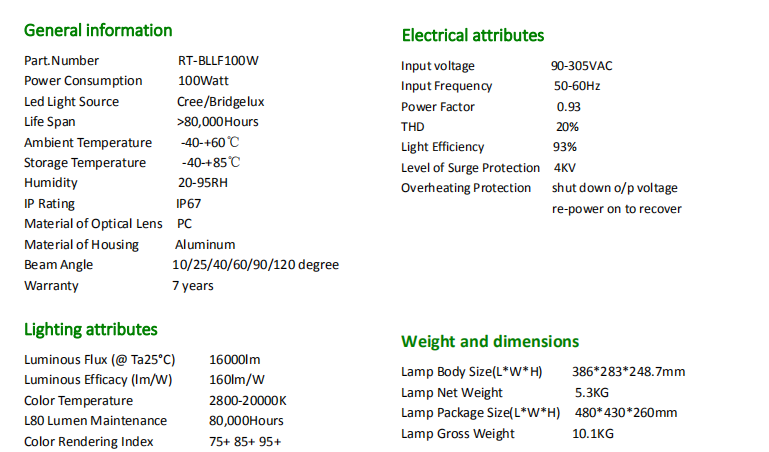 Technical Parameter
Light Source: USA original Bridgelux Chip(upto 199lm/W)
Power Supply: MeanWell or Inventronics
Color Index(CRI): Ra> 80 (until 95)
Input Voltage: 90-295VAC 50-60HZ
Power Factor (PF): >0.95
Power Efficiency: >90%
Beam angles available: 10°, 25°, 40°, 60° 90°, 120°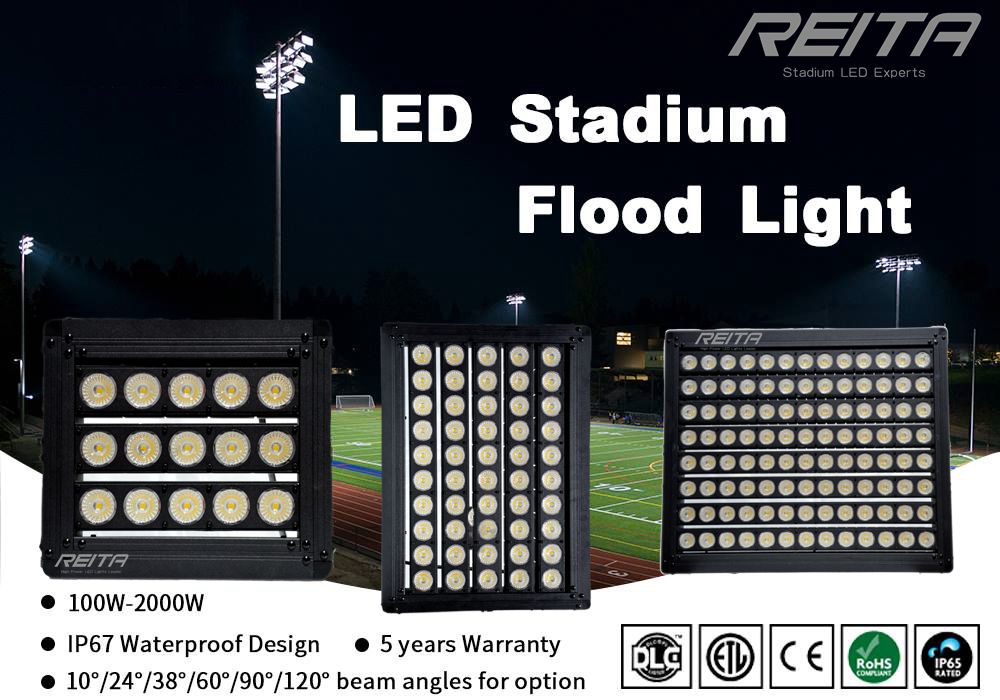 A floodlight is a luminaire that specifies that the illuminance of the illuminated surface is higher than that of the surrounding environment.Usually, it can aim in any direction and has a structure that is unaffected by weather conditions.It is mainly used for large area mine, building outline, stadium, overpass, monument, park and flower bed.Accordingly, the large area illume lamps and lanterns that almost all outdoor use can regard as cast light lamp.The Angle of the outgoing beam of the projection lamp varies from wide to narrow, with a range of 0° to 120°.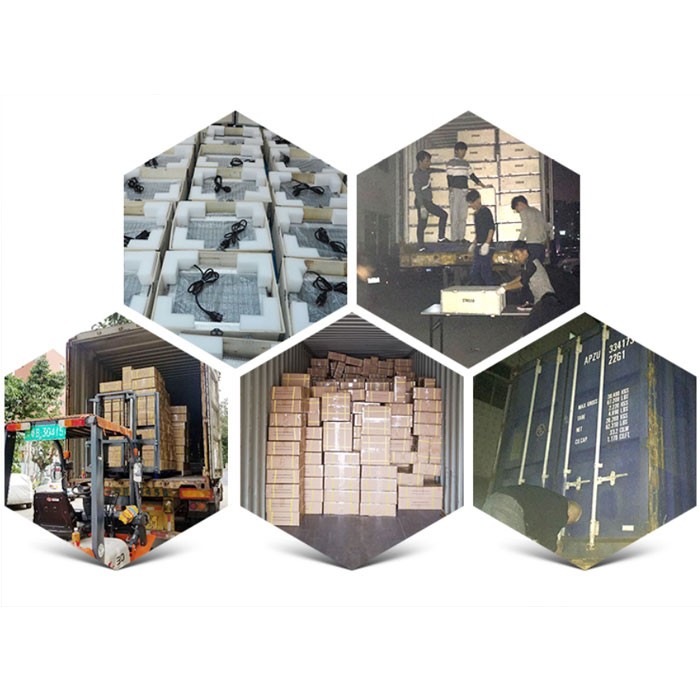 Features and advantages of Reita LED flood lights: Features: 1. The internal and external strong earthquake resistant structure design is adopted to effectively solve the problems of bulb shedding, bulb life shortening and bracket fracture caused by strong vibration. 2, with high efficiency gas discharge lamp as the light source, the bulb service life of more than 10,000 hours, especially suita
...more