200W Led High Mast Light
200W Led High Mast Light
Led stadium light

China

3-5days

60000pcs Per month
This series of LED High Mast Light use Bridgelux 5050 SMD LED and Inventronics Power Supply, energy saving, high brightness, long service life. With UL,DLC,CE, SAA, CB, LM79, Salt spray test,vibration test ,Waterproof Test and many other certifications.
Marine-grade aluminum house with good heat dissipation.
High efficient optical system With 6degree For Choose, which emits soft and evenly distributed light.
100W High Mast Lighting is equivalent to a 250Watt Metal Halide Light
Flicker-free and lighting effect is 160Lm / W.
High precision constant power power supply.
It is widely used in stadiums, golf courses, tennis courts, docks, parking lots, airports and other High Mast lighting places.
200W Adjustable Module High Mast Light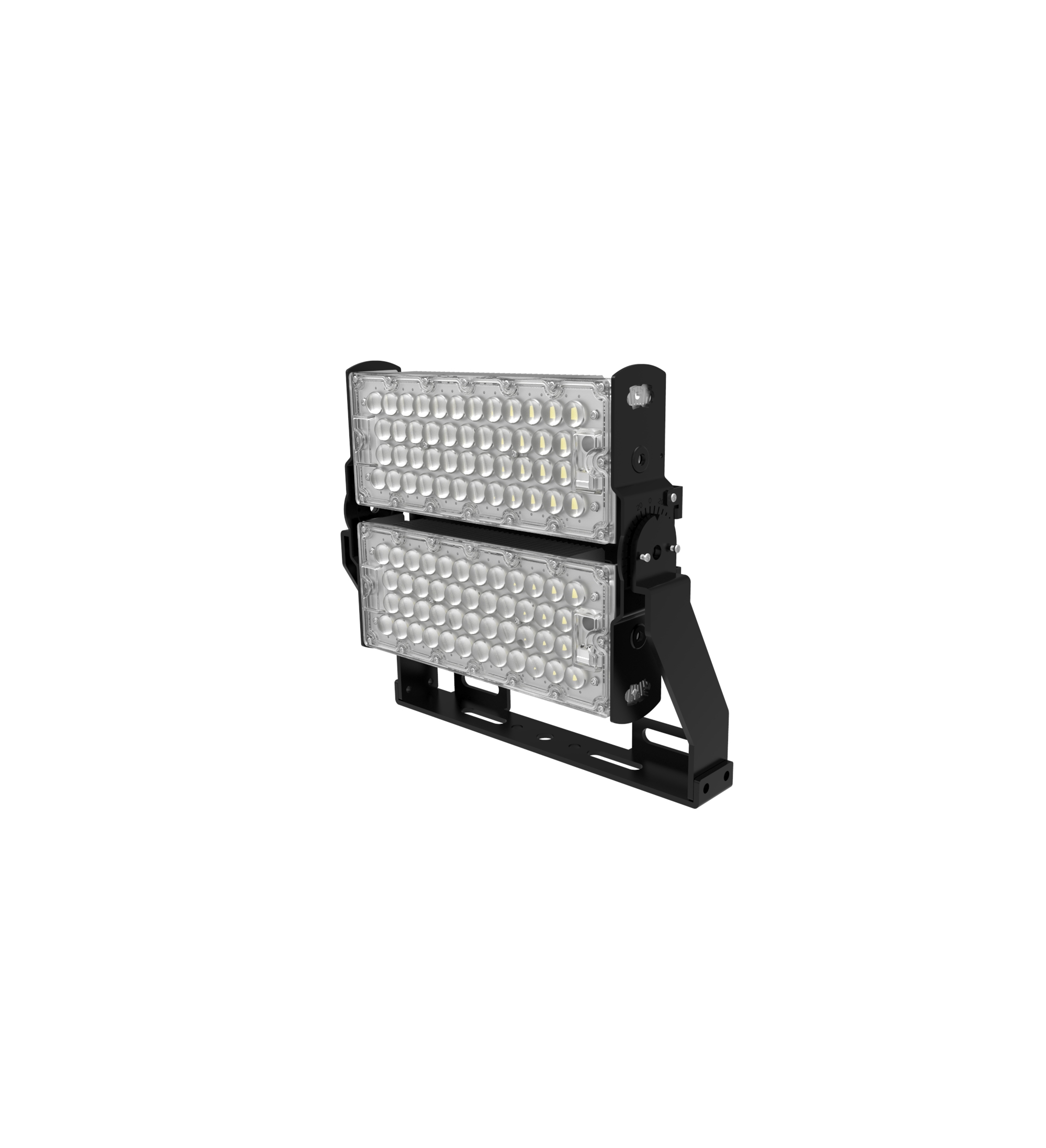 Main Feature
IP66 Waterproof high mast lights
Rotatable modules offering maximum customisation
Stronger mounting bracket
7-20-40-60-90-140*100degree for Choose
With illumination equivalent to 250 watt Metal Halide Mast Light
Protractor scale for easier aiming
60,000-hour operating life means years of maintenancefree operation.
DC24V/36V/48V Solar use High Mast Light available
Product Type

Adjustable Rotating Module

High Mast Light

Model Number

RT-SL200W

Voltage ..

100-277VAC Standard

347-480VAC Available

Wattage

200W

Lumens

32,000

Lumens Per Watt

160lm/W

LED Chipset

Bridgelux 5050

Mounting Double

Rigid U-Bracket Standard

Beam Angle (degrees)

10°/20°/40°/60°/90°/140°*100°

Kelvin (CCT)

3000/4000/5000/5700

CRI

>70

Life Span (Hours)

50,000+

Dimmable

Dali Available

Zigbee Available

1-10V Available

Waterproof

YES (IP65)

IK Rating

(Impact and Vibration Resistance)

K10

Certifications

ETL, DLC,CE, RoHS,LM79, LM80 ,ISTMT ,

Length of Warranty (YEARS)

5

Module rotatable

Module rotatable back and front

Dimensions

342 x 362 x 132mm

Net Weight

6.2kg

Suggested Replacement For:

800W Metal Halide

Additional Options Dark Sky Shield Available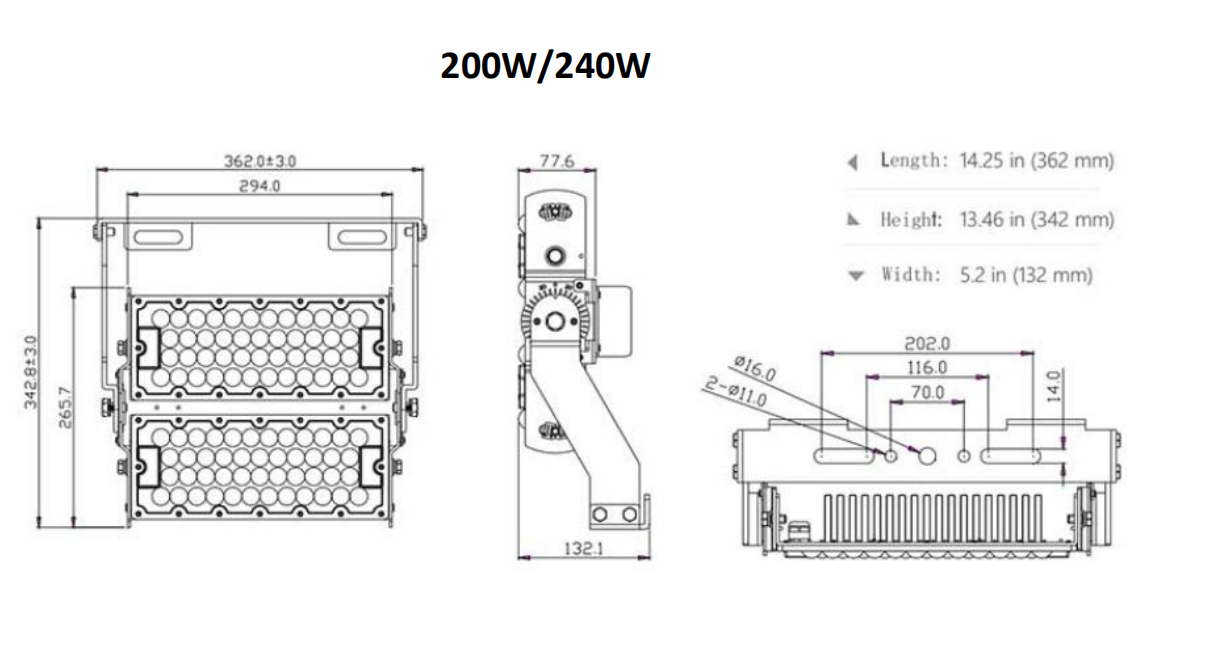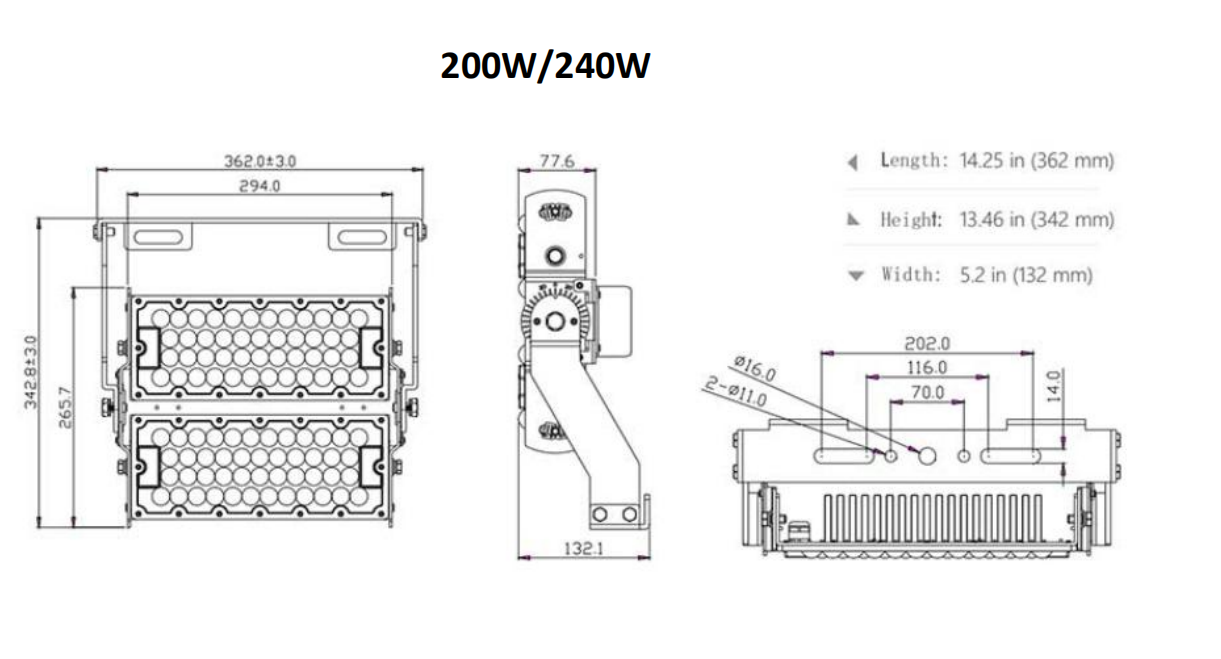 Regular configuration and specification of square automatic lifting high Mast Light
Square high pole lamp refers to 15 meters above steel conical pole and high-power modular lamp frame constitute a new lighting device.It consists of lamp holder, internal lamp electrical, rod body and foundation part.Lamp holder modeling can be specified according to user requirements, surrounding environment, lighting needs;The interior lamps are mainly composed of floodlights and projection lamps. The light source is 200W LED High mast Light with a lighting radius of 60 meters.The rod body is generally a pyramid - shaped single body structure, made of steel plate, the height of 15-40 meters, for two to three sections.
Specification and configuration of square high pole lamp:
1.Lamp-posts for eight, twelve, eighteen pyramid shaped rod body, by high strength quality steel plate through shear, bending, automatic welding forming, the general height of 25, 30, 35, 40 and other specifications, the design maximum wind resistance capacity can reach 60 m/s, each specification by 3 to 4 joint components.Flange steel chassis, diameter 1 m to 1.2 m, thickness 30mm to 40mm.
2.Functional structure to give priority to, there are mainly decorative materials to steel, steel tube, lamp poles, lamp plate with hot dip zinc treatment.
3.The electric lifting system consists of electric motor, winch, three groups of hot dip galvanized steel wire rope and cable.Inside the lamp-post, the lifting speed is 3 to 5 meters per minute.
4.The guide and unloading system is composed of guide wheel and guide arm to ensure that the lamp disc will not move laterally during the lifting process. When the lamp disc rises to the position, the lamp disc will automatically fall off and be locked by hook.
5.Lighting electrical system is equipped with 6-24PCS 200w-1000w high-power LED floodlight /LED floodlight lamps;The computer time controller can automatically control the time of turning on and off the lights and the partial or full lighting.
6.Lightning protection system: 1.5m long lightning rod shall be installed on the lamp top, and 1 1m long grounding wire shall be installed on the underground foundation and welded with the underground bolt.
Application:
City square, community activity square, village activity square, station, wharf, freight yard, highway, stadium, high-speed interchange, etc.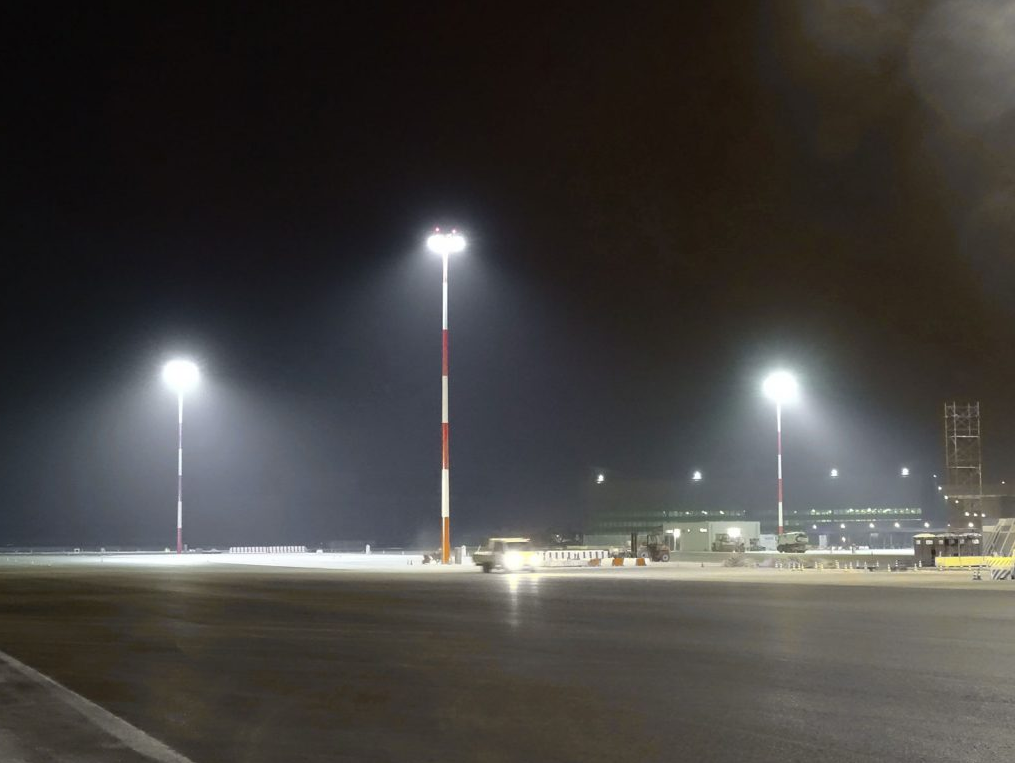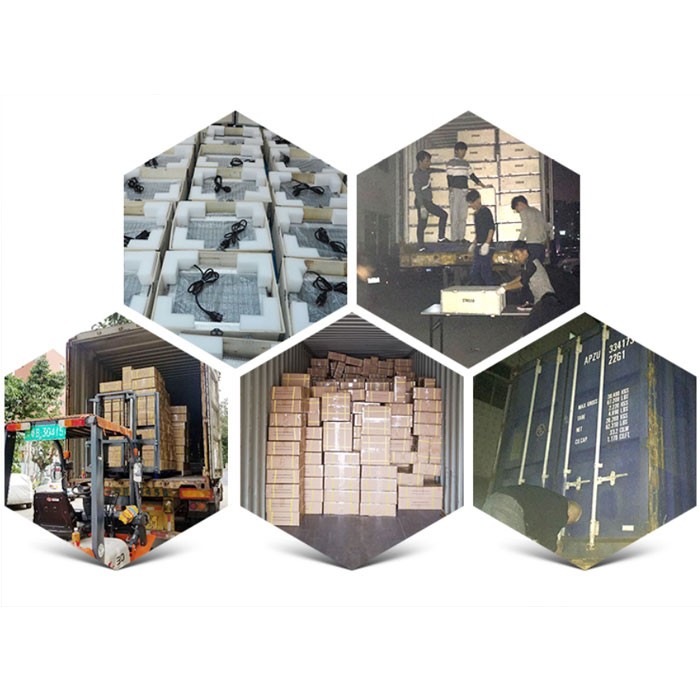 Features and advantages of Reita LED flood lights: Features: 1. The internal and external strong earthquake resistant structure design is adopted to effectively solve the problems of bulb shedding, bulb life shortening and bracket fracture caused by strong vibration. 2, with high efficiency gas discharge lamp as the light source, the bulb service life of more than 10,000 hours, especially suita
...more