300W FIFA Led Stadium Light Outdoor Waterproof IP67
300W FIFA Led Stadium Light Outdoor Waterproof IP67
REITA

China

3-7days

10000pieces
​LED lights, specially the led stadium lights need to pay attention to moisture and pour specifications, IP (Ingress Protection) rating system is draft by IEC (INTERNATIONAL ELECTROTECHNICAL COMMISSION).It is used to define levels of sealing effectiveness of electrical enclosures against intrusion from foreign bodies (tools, dirt etc) and moisture.
Definition of LED IP level
IP protection level is composed of two numbers. The first number represents the level at which the lamp is protected from dust and foreign objects.
The 2nd number indicates the protection level that the enclosure enjoys from various forms of moisture (drips, sprays, submersion etc). The larger the number is, the higher protection lever is.
IP Ratings - what do they mean?
Here below are 2 tables to help understand the IP rating.
A number replaced by x indicates that the enclosure is not rated for that spec.
The 1st number:
0 (or X - see section below): No special protection. Not rated (or no rating supplied) for protection against ingress of this type.
1 Protection from a large part of the body such as a hand (but no protection from deliberate access); from solid objects greater than 50mm in diameter.
2 Protection against fingers or other object not greater than 80mm in length and 12mm in diameter (accidental finger contact).
3 Protection from entry by tools, wires etc, with a diameter of 2.5 mm or more.
4 Protection against solid objects larger than 1mm (wires, nails, screws, larger insects and other potentially invasive small objects such as tools/small etc).
5 Partial protection against dust that may harm equipment.
6 Totally dust tight. Full protection against dust and other particulates, including a vacuum seal, tested against continuous airflow.
the 2rd number:
0 (or X - see section below): No protection.
1 Protection against vertically falling droplets, such as condensation. ensuring that no damage or interrupted functioning of components will be incurred when an item is 2 upright.
3 Protection against water droplets deflected up to 15° from vertical
4 Protected against spray up to 60° from vertical.
5 Protected against water splashes from all directions. Tested for a minimum of 10 minutes with an oscillating spray (limited ingress permitted with no harmful effects).
6 Protection against low-pressure jets (6.3 mm) of directed water from any angle (limited ingress permitted with no harmful effects).
7 Protection against direct high pressure jets.
8 Protection against full immersion for up to 30 minutes at depths between 15 cm and 1 metre (limited ingress permitted with no harmful effects).
For the outdoor led light fixtures, specially the led stadium light, the IP level is very important. The IP level is one of the most important part that customer should choose this light or not. For the led stadium lights, most of the stadiums are outdoor design, specially for the big games. A well water, moisture, dust, and waterproof led stadium light will lower down the maintain cost of the light system. Otherwise, bad IP level make the lamp easier to be failed means a bunth cost.
What is the IP level of Reita Led Stadium Lights?

Reita led lamps meet the standard of IP67. Take the 300W FIFA Led Stadium Light Outdoor Waterproof IP67 for example, Reita led Stadium light fixtures are designed at the IP67 level. Every single wire contact spot and soldering part is sealed by the waterproof glue. The gap between the lens and heatsink is also sealed by the waterproof silicon ring. Not a spot of water will run into the lamp to ruin the lamp.
300W FIFA Led Stadium Light Outdoor Waterproof IP67
Product Type

LED Stadium Light

Model Number

RT-LST-300W

Voltage

100-277VAC Standard

347-480VAC Available

Wattage

300W

Lumens

54,000lm

Lumens Per Watt

180lm/W

LED Chipset

Bridgelux

Mounting Double

Jointed U-Bracket Standard

Beam Angle (degrees)

10°/25°/45°/70°/90°

Kelvin (CCT)

3000K/4000K/5000K/5700K/6500K

CRI

75-85/90-96

Life Span (Hours)

100,000+

Dimmable

Dali Available

Zigbee Available

1-10V Available

Waterproof

YES (IP67)

IK Rating(Impact and Vibration Resistance)

IK10

Certifications

ETL, DLC,TUV,SAA, CE, RoHS

Length of Warranty (YEARS)

5

Service time (YEARS)

10

Dimensions

345*245*183MM

Net Weight

6.5kg

Suggested Replacement For:

1500W Metal Halide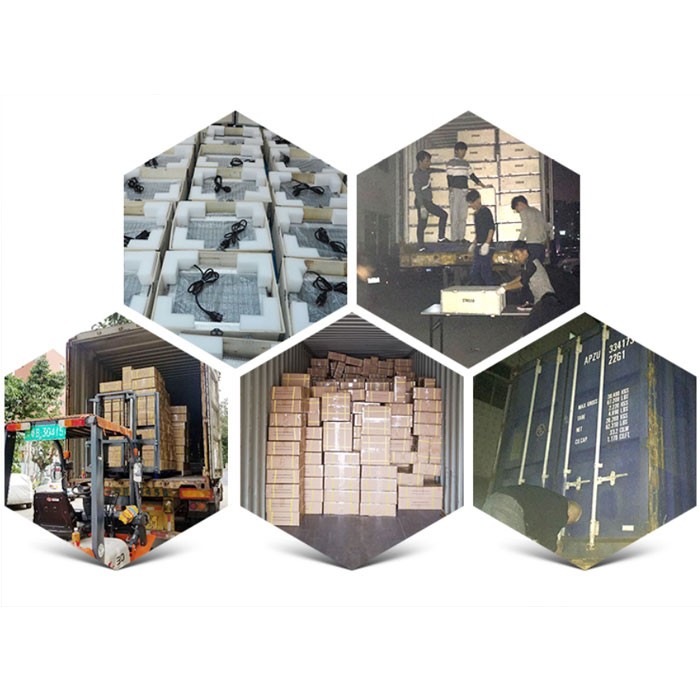 Features and advantages of Reita LED flood lights: Features: 1. The internal and external strong earthquake resistant structure design is adopted to effectively solve the problems of bulb shedding, bulb life shortening and bracket fracture caused by strong vibration. 2, with high efficiency gas discharge lamp as the light source, the bulb service life of more than 10,000 hours, especially suita
...more