200W Most Powerful Led Baseball Stadium Lights
200W Most Powerful Led Baseball Stadium Lights
REITA

China

3-7days

10000pieces
Reita Stadium Series LED flood light is designed exactly for stadium lighting with each led bulb 50W (24 pcs small led chip inside each bulb) ,it good at long distance lighting to ensure the great uniformity on the ground.
SMD led chip with 48 pcs heat sink shared.

Each led bulb with 24 pcs SMD led chio inside, and with 48pcs heat sink collect directly to the root of the led chip to driver the chip's heat out,it improve the stability and lifespan of the led chip.
200W Most Powerful Led Baseball Stadium Lights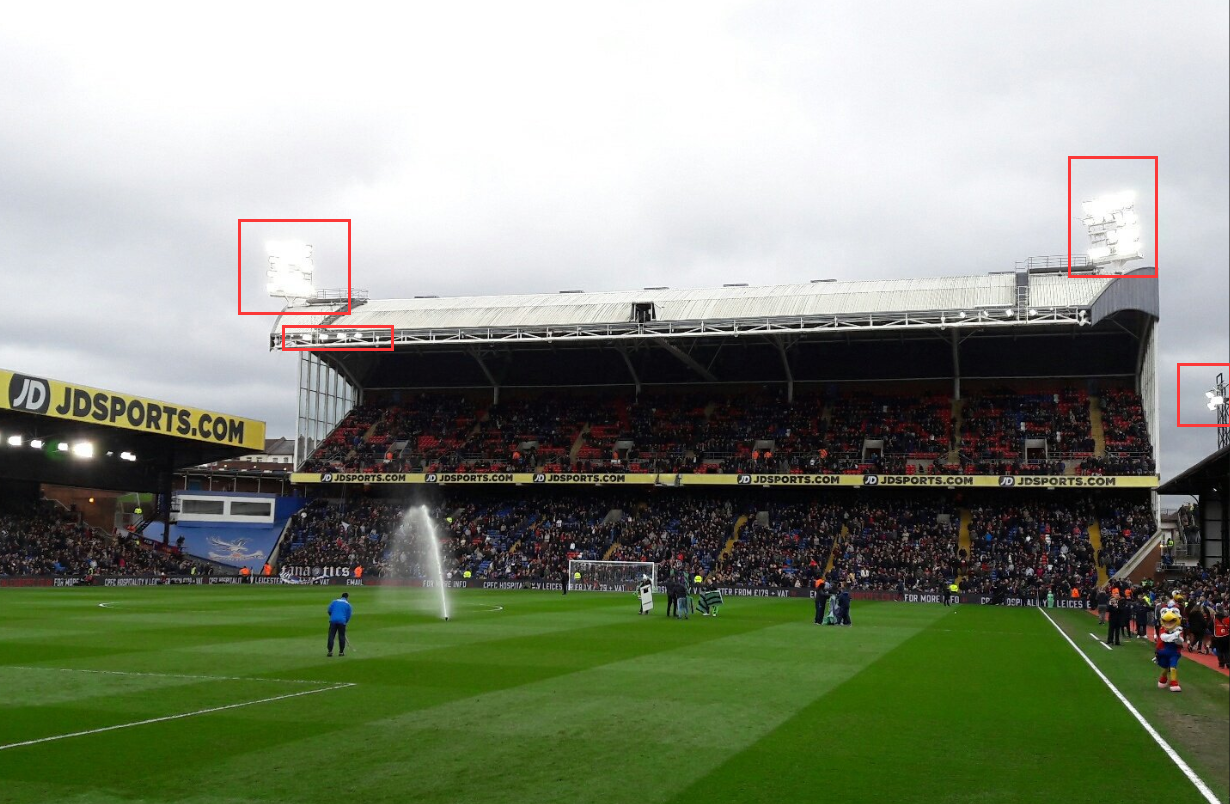 Specification
Power:100W/150W/200W/250W/300W/400W/ 500W/600W/750w/1000W/1500W/2000W/2500W/5000W
Input:90-295V AC,costup for 380V/480V AC
Power Factor>=0.95
Light source:Bridgelux SMD chip
Driver: Meanwell or Inventronics
Beam Angle:10/25/45/70/95Deg
CCT:2700-3500K,4000k-4500k,5000k-6000k,6000k-7000k
Tunable White, RGB&RGBW Optional
Lumen Efficiency:180lm/w
Work temperature:-40 to 65 Celsius degree
Lifespan > 100000 hrs
IP rating: IP66 waterproof
CRI:70/80/96
Application:
sport,stadium,high mast lighting
Dimension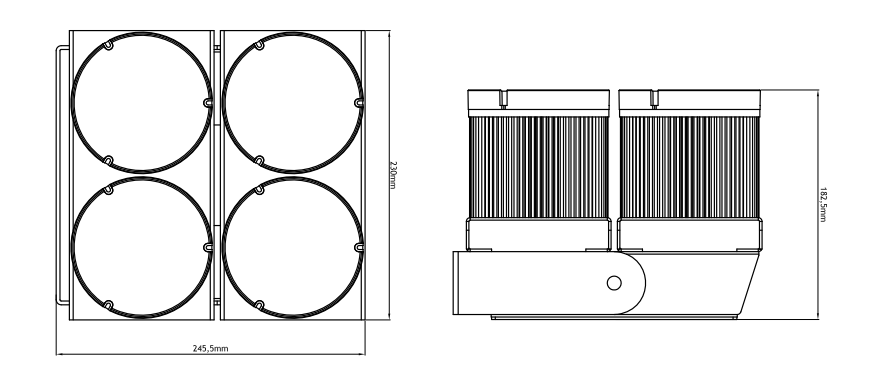 Guides for baseball stadium light
Baseball is a kind of ball sports which is characterized by playing baseball, teamwork and antagonism.Baseball is widely played all over the world, mainly in the United States, Japan and South Korea, as well as Latin America and Taiwan in China.
In 1845, Alexander Joy Cartwright( American), established the first rules of the game in history to unify the name and play.The required field shapes and sizes are still in use today, and the name Baseball is officially adopted.
The baseball field fanned out at right angles.And the lighting system of the baseball stadiums is mostly in the below ways.

Depending on the different place the baseball field located, for example, Recreationa, Little League,High School,Collegiate(with or without Televised needs) and professional event with live broadcast need, the lighting standard is also different.

Here below is a simple list of the lighting standard.
| | | | | | | | | |
| --- | --- | --- | --- | --- | --- | --- | --- | --- |
| | Outfield (Lux) | Outfield (FCs) | Infield (Lux) | Infield (FCs) | Outfield Lux (Max/Min) | Outfield FCs (Max/Min) | Infield Lux (Max/Min) | Infield FCs (Max/Min) |
| Recreational | 215.3 | 20 | 322.9 | 30 | 26.9 | 2.5 | 21.5 | 2 |
| Little League | 322.9 | 30 | 538.2 | 50 | 26.9 | 2.5 | 21.5 | 2 |
| High School | 322.9 | 30 | 538.2 | 50 | 26.9 | 2.5 | 21.5 | 2 |
| Collegiate | 538.2 | 50 | 753.5 | 70 | 26.9 | 2.5 | 21.5 | 2 |
| Collegiate (Televised) | 753.5 | 70 | 1076.4 | 100 | 26.9 | 2.5 | 21.5 | 2 |
How to choose a right baseball stadium light?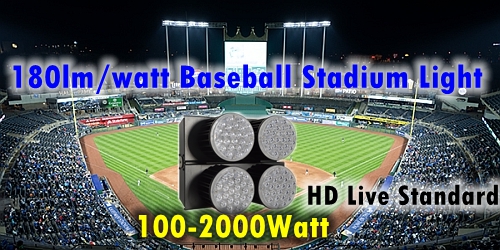 There are many kinds of different baseball stadium light. Mostly, the baseball field are still using the HPS floodlights, metal halide or halogen lights. These lights are the traditional lights, and well know by people. The projector preferred to buy these lights because they are cheaper. But after the Led source stadium lights born, they find those lights are not real "cheap". The led source stadium light save the money and cost in many ways.
1. Most baseball stadium need to use 500Watt, 800Watt or 1000watt traditional lights. Take the 500watt for example, a Led source stadium light just need 200-300watt to replace the 500watt traditional light...And for Reita, our stadium light is 180lm/watt, the best and highest efficiency. So we just need around a 150watt to replace the 500Watt. A 200-250Watt stadium light is enough to replace a 1000watt traditional light. From this point, the electricity bill will save a lot every year. That is huge money.
2.The lifespan of the lights. For the traditional lights, it will run 1-3 years or even lower, but for the led source stadium light fixtures, it will run 3-5 years, or even 10 years. For changing a new lamp, not only cost a lamp purchase fee but all man power cost to replace the lamp as well as the facilities to reach the lamp on the high pole.
3.The traditional lamps still have the problem of the "glare",bad light uniformity problem. The player suffer that a lot and is also not safe to run the game. A lot of hurting risk existed. But for our led stadium lights, we have already solved these kinds of problems. If need more information and detail, please mail to reita@reitaledlighting.com Our engineers can both do new design or lighting simulations for you.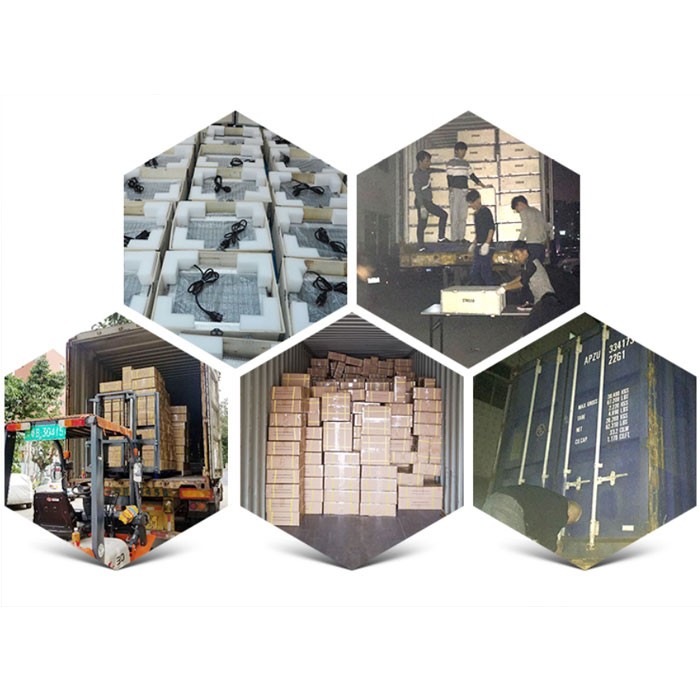 Features and advantages of Reita LED flood lights: Features: 1. The internal and external strong earthquake resistant structure design is adopted to effectively solve the problems of bulb shedding, bulb life shortening and bracket fracture caused by strong vibration. 2, with high efficiency gas discharge lamp as the light source, the bulb service life of more than 10,000 hours, especially suita
...more